Not Ranked
:
0 score
MOCO Mazda Corral 6 Hours @ The GLen
---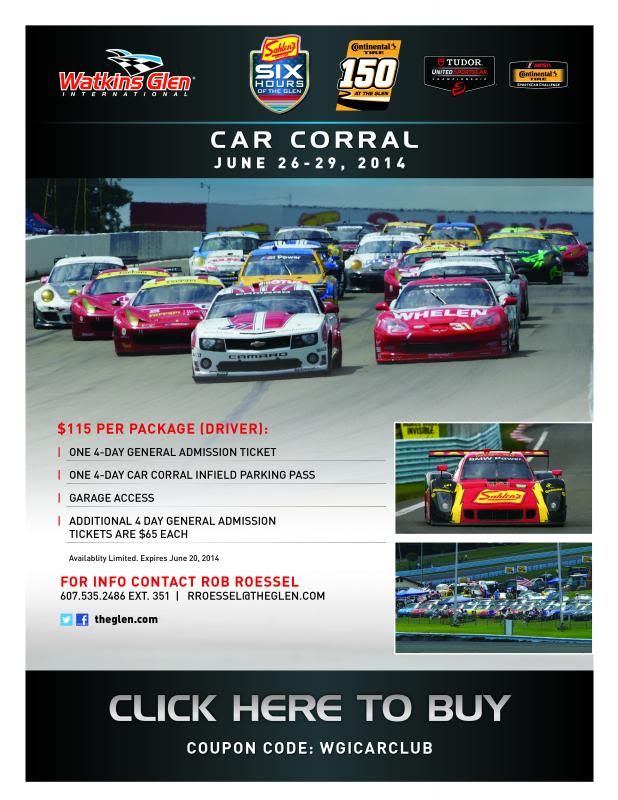 The ticket ordering link does not work off the flyer. Call Rob to order your tickets.
Camping pass is $100 for the whole weekend for an infield camping spot.
Mazda Owners' Corral will be located inside Turn One once again! Can't beat that view!!
We look forward to seeing YOU at the races!!
__________________
[size="2"]2003 MSP Spicy Orange #1151- "Zoom freakin' Zoom"

Injen CAI (black), Yellow Calipers G2 System, Carbon Fiber Tower Brace, Red Line MT-90 Tranny Fluid, Custom FMIC-Big 3 Racing , Motegi F-7 Wheels , wrapped in Yokohama Parada Spec II's 215/40/17, SU Complete set of Motor Mounts, BC Coilovers, Adjustable End Links (front & rear),Power Slot Rotors, Techna Fit SS Brake Lines, Cobalt Friction XR-3 and XR-5 Pads, Russell Speed Bleeders, Mishimoto Radiator, Haltech Platinum Sport 1000, Disco Potato upgrade
ATE Super Blue Brake fluid, (Kosei K-1 TS (painted yellow) w/ Kumho V710's 225/45/17) & Enkei RPF-1's 17 X 8 Black w /Toyo 888's 235/40/17 or B F Goodrich R-1's-NASA Time Trials, Apexcone 6000K HID's, AEM UEGO Wideband, AEM Tru-Boost and Electronic Controller & Boost Guage & AEM Digital Oil Pressure Gauge , Turbosmart Black Dual BOV, Custom 3" turbo-back exhaust (Patel Engineering), Findanza Lightweight Flywheel and Exedy Stage 1 Clutch, SS AFC, Wiseco Pistons, K-1 Rods- NASA TTD #327 2003 MazdaSpeed Protege

2013 MOCO Mazdaspeed 3-Crystal White Pearl-Bi-Color w/Tech Package-JBR Stage II SRI, Mishimoto OCC, JBR .250 RSB w/ Tri-Point end links, XPEL Clear Bra, JBR PMM & RMM, JBR MOCO Mud Flaps, Yellowspeed Coilovers, JBR Adjustable Rear Camber Arms, JBR Stage 2 Black Adjustable Short Shifter Plate and Bushings, JBR Shift Knob, EGR Delete, COBB AP, CP-e Flex II RMM, CP-e Triton CBE